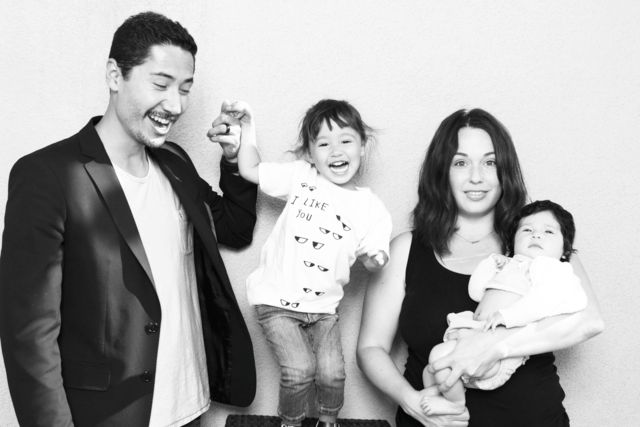 Hello! 
I am so glad you stopped by! My name is Dawn and I am the person behind Siena London. 
Designing, sewing, and creating have been a true passion in my life. I am grateful that I have a small outlet to fuel the creative spark that I have. 
I have been sewing since I was in elementary school. First project? Super fly spandex bike shorts with lace trim and a white T-shirt with spandex fabric from shorts used as an appliqué. I took that solid gold goodness to Disneyland and rocked it out! I was proud to say the least. From there I was a mixed pot of rip it apart and sew something new. In the early 2000's I was a band T-shirt reconstruction queen! Add lace and cut some neckline and BAM! Girl friendly band shirts. It was cool then I promise (or maybe it wasn't). I attended the ever awesome Long Beach City College fashion program. There I got to sew nonstop for hours and hours creating garment after garment! Even though I think I almost lost my sanity in those years they are also the years that I gained actual sewing skills. I learned legit techniques and construction. I learned pattern making and draping. I really enjoyed manipulating fabric and drawing something then producing it. 
Skip ahead a few years (you are missing an awesome job at a aquarium and a few interesting apartments in Long Beach) I started working for a small high end clothing company. I got to learn hands on the business of fashion. It was both amazing and exhausting. Seriously, I was exhausted and I was in my early 20's. Realizing that my desire to sleep and to have normal working hours I decided to leave the fashion industry. Since then I have had many wonderful jobs but none that actually used my talents. 
Skip ahead again. (this time you are missing some boring jobs, meeting a rad dude, marrying that dude at a museum, and two kids). I am now overly inspired by my two amazing daughters to create again. The need to express myself and use some of my stored away talents became overwhelmingly clear in my life. Thanks to the BEST most supportive husband I was pushed to move forward. After many weeks of thought and careful choices I came to put myself out there as Siena London (Fun fact Siena London is a combination of my two daughters names). 
I am grateful for each person who expresses interest in our purchases anything that I make. It truly is a labor of love.